Looking for process servers in Crestline California?
One can not underestimate the value of reliable Attorney Service. A List Process Servers provide a wide range of court services from Court Filings, Service of Process, Legal Research and more.
Address:
A List Process Servers
P. O. Box 5243
Crestline, CA
92325
Phone: 909-271-1121
Website: alistlegal.com
Need a Process Server in Canada?
Click our logo & search the directory.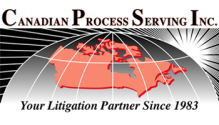 Directions: Click for directions. Opens in a new window.