Looking for process servers in Manteca California?
A & R Legal Service has been specializing in process serving in the San Joaquin Valley for over two decades. We are licensed and bonded with the State of California. We primarily service Stanislaus, San Joaquin, and Merced Counties, but we are also available to service other areas such as Sacramento, San Francisco, and Fresno.
Address:
A & R Legal Service
P.O. Box 2092
Manteca, CA
95336-2092
Phone: (209) 526-6517
Fax: (209) 578-1073
Email: [email protected]
Website: www.berberianlegalservice.com
Need a Process Server in Canada?
Click our logo & search the directory.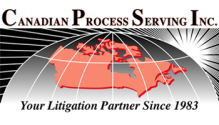 Directions: Click for directions. Opens in a new window.