Looking for process servers in Miami Florida?
We are a family owned business currently located in Downtown Miami established to primarily serve Law Firms, Banks, Insurance and Judgment Recovery Companies.
Address:
Judicial Process & Support, Inc.
Biscayne Building
19 West Flagler Street
Suite 717
Miami, Fl
33130
Phone: 1-800-852-5002
Fax: 305-347-3354
Email: [email protected]
Website: judicialsupport.com
Need a Process Server in Canada?
Click our logo & search the directory.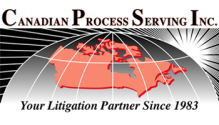 Directions: Click for directions. Opens in a new window.