Looking for process servers in Morrilton Arkansas?
We are experienced, knowledgeable and detail-oriented Arkansas Process Servers: We know how to locate the person, properly serve the papers, and correctly complete the return. We can find the information we need to get the job done – and we can be extremely persistent in our service process when the situation merits such an approach. We have served papers to even the most hard to find defendants!  Our staff has extensive knowledge and experience in criminal justice, the Arkansas legal system and legal studies. We are also well-versed in the laws governing process service in Arkansas. We provide cost-effective service with simple, flat fees: Unlike most of our competitors in the Arkansas process service industry, we have no hidden fees and we do not add fees to your case as we go. Our fees are simple and all-inclusive, and we let you know exactly what your fee will be up front. Even though we can serve papers throughout the entire state of Arkansas, we do not charge for mileage or drive time. Our client service is personal, detailed and responsive: Every one of our clients receives first-class service, not just our largest clients or our most regular clients. No client is a "number" to us. We believe in building long-term relationships based on trust and respect, starting with the very first phone call. We give you expedited handling: We make most first attempts at process service within 3 days of receiving your case, and we will do everything within our power to serve your papers within a reasonable time. Your cases are as important to us as they are to you, because we know that our good service will reflect positively on you. We want our clients to be completely satisfied with every process service we handle. We give you immediate updates: If for some reason our process servers have problems in attempting to serve papers, we will let you know immediately, and we will work with you to find a solution. We are confident that our people locator skills can help you find the person you need in order to serve your documents.
Our process servers serve all legal documents in Arkansas, including but not limited to:
Summons
Complaints
Record Subpoenas
Small Claims Cases
Personal Subpoenas
Restraining Orders
Bank Levies
30 Day Notices
Wage Garnishments
Cross-complaints
Evictions
Pleadings
Motions
Correspondence
Discovery
Order for Appearance
Please send your services to us at:
McKinney Process Service
PO BOX 759
Morrilton, AR
72110
Phone: 501-354-2111
Website: www.servingpapers.com
Need a Process Server in Canada?
Click our logo & search the directory.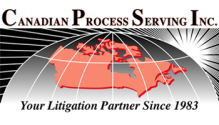 Directions: Click for directions. Opens in a new window.