Looking for process servers in Scotts Valley California?
We are currently registered as process servers in The State of California, and are proud members of NAPPS (National Association of Professional Process Servers).
Address:
AllPoints Process Services
5610 Scotts Valley Drive
Suite B363
Scotts Valley, CA
95066
Phone: (831) 818 – 7877
Email: [email protected]
Website: www.allpointsls.com/index.html
Need a Process Server in Canada?
Click our logo & search the directory.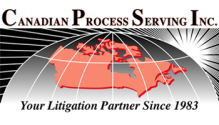 Directions: Click for directions. Opens in a new window.