Looking for process servers in Temecula California?
We are a process serving company, specializing in effective and efficient corporate service of process starting at $35.00 for services. The back bone of our business is serving California corporations at a competitive price.
Address:
California Serve
31915 Rancho California Rd
#200-239
Temecula, CA
92591
Toll Free: 866-243-0473
Fax: 866-243-0474
Email: [email protected]
Website: www.californiaserve.com
Need a Process Server in Canada?
Click our logo & search the directory.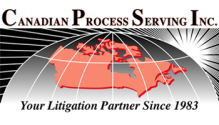 Directions: Click for directions. Opens in a new window.