Looking for process servers in Vista California?
San Diego Serve has been in operation with Southern California Investigations, which was established in the early nineties. We have been serving Southern California and our Nationwide clients for almost two decades.
Address:
San Diego Private Investigators & San Diego Process Servers
P.O. Box 1733
Vista, California
92085
Phone(s): (855) 50-SERVE, (760) 521-3189
Fax Number: (877) 862-2527
Email: [email protected]
Website: www.sandiegoserve.org
Need a Process Server in Canada?
Click our logo & search the directory.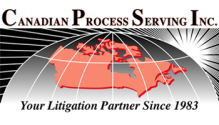 Directions: Click for directions. Opens in a new window.