Looking for process servers in Brandon Florida?
Above The Rest Process Service is a leading provider of legal services to the Central Florida area. We specialize in evasive and hard to serve individuals. Our staff is dedicated to customer service and satisfaction. We strive to attempt and complete each process in 24-72 hours or less and have a proven track record for getting the job done effectively and efficiently.
Address:
ATR Process Service
P.O. Box 6367
Brandon, FL
33508
Phone: (813) 344-8812
Fax: (813) 654 4391
Email: [email protected]
Website: www.abovetherestprocess.com
Need a Process Server in Canada?
Click our logo & search the directory.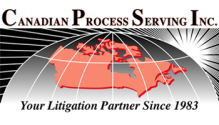 Directions: Click for directions. Opens in a new window.