Looking for process servers in Bridgeport Connecticut?
Professional Process Service L.L.C. is a privately owned Legal Support Company. We provide litigation support for the legal community in Connecticut and throughout the United States.
Address:
Professional Process Service, L.L.C.
1018 Broad Street
Suite 318
Bridgeport, CT
06604
Toll Free: (888) 712-7378
Phone: (203) 350-0766
Fax: 203.573.8835
Website: professionalprocess.com
Need a Process Server in Canada?
Click our logo & search the directory.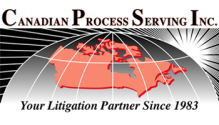 Directions: Click for directions. Opens in a new window.