Looking for a process server in Champaign Illinois?
Tactical Services provides LiveScan Fingerprinting, Process Service, Private Investigations and Firearms Training Simulators throughout Central Illinois. Through our network of licensed Private Detectives and Private Investigators, we are also able to provide service throughout the entire state of Illinois.
Address:
Tactical Process Service
907 W. Marketview Dr.
Suite 10-320
Champaign, Illinois
61822
Phone: 309-275-2365
Email: [email protected]
Website: www.tacticalprocessservice.com
Need a Process Server in Canada?
Click our logo & search the directory.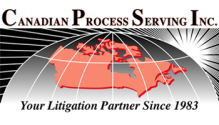 Directions: Click for directions. Opens in a new window.