Looking for a process server in Columbus Georgia?
We at Professional Legal Services & Investigations, LLC know that the choice to hire a professional private investigator can be stressful emotionally and financially so please call or email us to discuss your options.
Address:
PLSI
PO Box 8587
Columbus, GA
31908
Phone: (706) 610-0599
Email: [email protected]
Website: www.columbusinvestigations.com
Need a Process Server in Canada?
Click our logo & search the directory.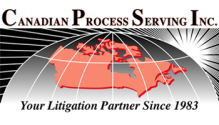 Directions: Click for directions. Opens in a new window.