Looking for process servers in Corona California?
George Sano Investigations (GSI) is a complete attorney service operating in the Southern California area. All our services are tailored to meet your specific needs and range from those tough-to-serve process serving assignments, court filings, skip tracing, asset searches and background checks.
We take pride in setting a higher standard of professional, reliable and efficient legal support services to the legal community. With faster proofs of service, 24/7 status updates and the most reliable network of process servers you can trust GSI to get the job done.
Address:
George Sano Investigations (GSI)
1191 Magnolia Ave.
Suite D133
Corona, CA
92879
Telephone: (714) 486-3606
Facsimile: (714) 486-3592
Email: [email protected]
Website: www.gsilegal.com
Need a Process Server in Canada?
Click our logo & search the directory.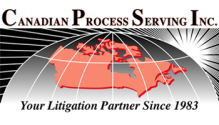 Directions: Click for directions. Opens in a new window.