Looking for process servers in Cotati California?
Gotcha Legal offers process service in San Mateo, California and across the nation. To make things easier for you, hire Gotcha Legal. You won't have to worry about the paperwork and we're ready to handle your work.
Address:
Gotcha Legal Services
P.O. Box 271
Cotati, CA
94931
Phone: (707) 795-0155
Website: gotchalegal.com
Need a Process Server in Canada?
Click our logo & search the directory.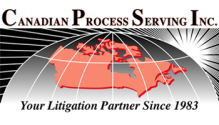 Directions: Click for directions. Opens in a new window.