Looking for a process server in Cumming Georgia?
We are a member of NAPPS and IPSA. Our mission is to have your papers served anywhere in the US or locally. We have a network of process servers in Atlanta, GA which cover the entire area.
We can also attend court and issue, file and do any research that you may need as well.
Our Atlanta network are all paralegals and most are licensed PIs. Dennis Nowik, the managing member, is registered under one of the oldest fully licensed PI agencies in Georgia. We can refer all your litigation support needs to that agency.
Address:
Forsyth Legal Services, LLC
C/O The Shipping Post
1400 Market Place Blvd #176
Cumming, GA
30041
Phone: 678-300-6397
Fax: 678-455-3764
Store Hours:
MON 8:30AM-6:30PM
TUE 8:30AM-6:30PM
WED 8:30AM-6:30PM
THU 8:30AM-6:30PM
FRI 8:30AM-6:30PM
SAT 9:00AM-4:00PM
SUN Closed
Email: [email protected]
Website: www.forsythlegalservices.com
Need a Process Server in Canada?
Click our logo & search the directory.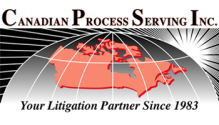 Directions: Click for directions. Opens in a new window.