Looking for process servers in Denver Colorado?
We are the fastest process service on the Front Range. Our unparalleled experience, dedication, and commitment to customer satisfaction separate us from other process service companies. Our process servers are fast, professional, and reliable.
Address:
DENVER BOULDER COURIERS
1550 Larimer St
#875
Denver, CO
80202
Phone: (303) 571-5719
Email: [email protected]
Website: www.dbcouriers.com
Need a Process Server in Canada?
Click our logo & search the directory.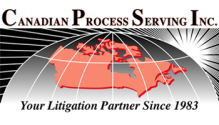 Directions: Click for directions. Opens in a new window.