Looking for process servers in East Hartford Connecticut?
Connecticut Process Serving, LLC provides a one-stop solution for your litigation and process serving requirements. We are committed to providing you the most professional and reliable service in the industry.
Address:
Connecticut Process Serving LLC
67 Burnside Avenue
East Hartford, Connecticut
06108
Local: 860-528-2920
Toll Free: 1-888-528-2920
Email: [email protected]
Website: ctprocess.com
Need a Process Server in Canada?
Click our logo & search the directory.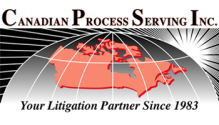 Directions: Click for directions. Opens in a new window.