Looking for process servers in Goodyear Arizona?
RapidRPS.com provides same and next day Service of Legal Process, Court Filings, Legal Document Preparation, SkipTracing, Records Research, Retrieval, Litigation Photocopy & Scanning in the greater Phoenix area. Our clients include law firms, individuals, businesses, and government agencies.
We are experienced in serving Summons & Complaints, Injunctions Against Harassment, Orders of Protection, Summons & Complaints, Writs of Garnishment, Subpoenas and other legal papers for individuals, attorneys, businesses and government agencies.
Address:
Rapid RPS Certified Process Servers
500 N. Estrella Pkwy.
#B2-441
Goodyear, AZ
85338
Toll Free: (877) 472-74311
Fax: (877) 329-1777
Email: [email protected]
Website: www.rapidrps.com
Need a Process Server in Canada?
Click our logo & search the directory.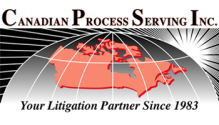 Directions: Click for directions. Opens in a new window.