Looking for process servers in Hemet California?
At Welch Attorney Service you will find that we take pride in our efficiency and premium services, as well as our dedication to leaving our clients satisfied with our excellent work and dependable employees. Call today for more information!
Address:
Welch Attorney Service
P.O. Box 5129
Hemet, CA
92544
Phone: (951) 766-6640
Fax: (951) 766-6642
Email: [email protected]
Website: www.welchattorneyservice.com
Need a Process Server in Canada?
Click our logo & search the directory.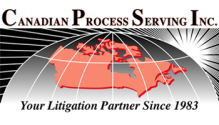 Directions: Click for directions. Opens in a new window.