Looking for process servers in Hollywood Florida?
We can not only take care of all your document serving needs but we can also attend the court house to issue, serve, file or copy anything that you may need.
We also provide skip tracing and other related services as well, just ask!
At ProServe USA we understand the significant role service of process plays in the legal industry and how it can impact your case. We are constantly working to improve our level of service so that we can exceed your expectations. We do this through innovative technology, experienced process servers, and constant communication throughout the entire process.
Address:
ProServe USA
4000 Hollywood Blvd.
Suite 555-S
Hollywood, FL
33021
Phone: 954-251-2657
Fax: 813-864-4488
Email: [email protected]
Website: http://www.proserveusa.com/
Need a Process Server in Canada?
Click our logo & search the directory.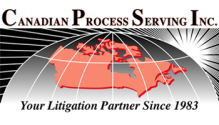 Directions: Click for directions. Opens in a new window.