Looking for process servers in Lake Forest California?
We are not just "Process Servers." We are Professional, honest, and 100% success oriented. We guarantee best our efforts and hold that our company continues to grow from achieving outstanding results.
Address:
Orange County Professional Servers
25422 Trabuco Rd.
Ste. 105-158
Lake Forest, CA
92630
Phone: 949-226-1041
Fax: 949-340-3372
Need a Process Server in Canada?
Click our logo & search the directory.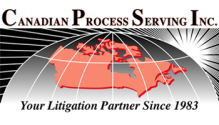 Directions: Click for directions. Opens in a new window.