Looking for process servers in Lake Wales Florida?
Experience and personal attention to our clients has made Gaston Process Service one of the most reputable process service agencies in Florida. We are committed to providing timely, quality process service that's tailored to meet the individual needs of our clients. Our trained professional staff ensures fast, thorough process service with integrity.
Summons
Subpoena
Evictions
Document Retrieval
Notary Service
Skip Trace
Immediate Pick-Up & Delivery
Address:
Gaston Process Service
708 Delmar St.
Lake Wales, FL
33853
Phone: (863) 678-1235
Fax: (863) 679-1632
Email: [email protected]
Website: www.gastonprocess.com
Need a Process Server in Canada?
Click our logo & search the directory.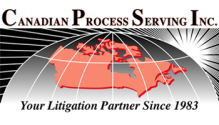 Directions: Click for directions. Opens in a new window.