Looking for process servers in Lakeland Florida?
Our dedication to our clients means we will get the job done. We offer basic and expedited process serving in Polk, Hardee and Highlands counties. Our technology software allows us to inform your office, upon document delivery.
Address:
NalbachToCourt Polk County's Process Server
7440 Hunters Greene Circle
Lakeland, FL
33810
Phone: 863.255.7164
Fax: 863.510.5014
Website:
Need a Process Server in Canada?
Click our logo & search the directory.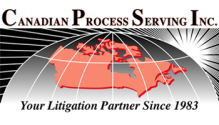 Directions: Click for directions. Opens in a new window.