Looking for process servers in Lakeport California?
NorCal Legal documents and attorney support is located in beautiful Lake County, California. Since 1997, NorCal Legal has been providing high quality services in all areas of legal documentation and support. We take pride in providing our customers with quick turnaround times and low fees. Our staff is courteous and efficient. All of our servers are registered and bonded. We can also take care of any issuing, filing or court research as well.
Address:
NorCal Legal
2559 Lakeshore Blvd. #5
P.O. Box 724
Lakeport, CA
95453
Phone: (707) 262-0809
Fax: (707) 262-0359
Email: [email protected]
Website: www.norcal-legal.com
Need a Process Server in Canada?
Click our logo & search the directory.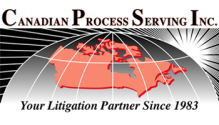 Directions: Click for directions. Opens in a new window.