Looking for process servers in Long Beach California?
We are a California Legal Support Services Company. The services we offer are designed for the law firm in-house legal department and business community. Registered, Bonded & Insured.
Address:
SIGNAL ATTORNEY SERVICE, INC.
P.O. Box 91985
Long Beach, CA
90809-1985
Phone: (562) 595-1337 | (310) 316-1256
Fax: (562) 595-6294
Email: [email protected]
Website:
Need a Process Server in Canada?
Click our logo & search the directory.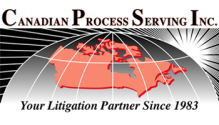 Directions: Click for directions. Opens in a new window.