Looking for process servers in Merced California?
Legal Support Net, Inc. is a full-service legal support company and fax-filing agency providing a wide variety of specialized services to individuals, attorneys, and corporations throughout California. Since 1982, Legal Support Net, Inc. has the expertise and proficiency required to offer time-efficient, inexpensive, and complete coverage of all your legal needs. Our companies extend over five counties in California, and a extended network of affiliates enables us to provide service across North America.
Address:
Legal Support Net, Inc.
833 W. 22nd Street
P.O. Box 2351
Merced, CA
95344
Phone: 209-383-3233
Toll Free: 866-311-2351
Fax: 209-383-0311
Email: [email protected]
Website: www.82lsn.com
Need a Process Server in Canada?
Click our logo & search the directory.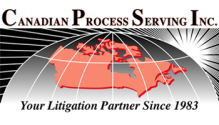 Directions: Click for directions. Opens in a new window.