Looking for a process server in Midway City California?
JPL Process Service is committed to providing quality attorney services at an affordable rate covering all of Southern California. With offices based in the Orange County and Los Angeles area, our first priority is always your best interest and we guarantee all work is handled by a Registered and Bonded California Process Server in a timely and accurate manner.
Address:
JPL Process Service
PO Box 918
Midway City, CA
92655
Phone: (866) 754-0520
Fax: (866) 684-4815
Email: [email protected]
Website: www.jplps.com
Need a Process Server in Canada?
Click our logo & search the directory.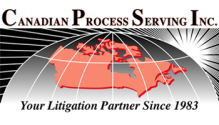 Directions: Click for directions. Opens in a new window.