Looking for process servers in New Castle Delaware?
we offer a wide range of support services for the legal community, including service of process, legal courier and court filing, document retrieval and public record searches. Let us help reduce your legwork.
Address:
Legal Beagles, Inc.
P.O. Box 886
New Castle, Delaware
19720-0886
Phone: (302) 478-2693
Toll Free: (800) 743-9897
Fax: (302) 478-2695
Email: [email protected]
Website: www.legalbeaglesinc.com
Need a Process Server in Canada?
Click our logo & search the directory.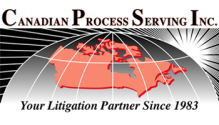 Directions: Click for directions. Opens in a new window.