Looking for process servers in North Scottsdale Arizona?
We have process serving offices in Scottsdale, Phoenix, Mesa, Peoria, & Tucson. We are operated by a prior President of the Arizona Process Servers Association & are well trained & experienced in all aspects of process serving.
If you are not sure of the identity or the location of a party that needs to be served, we are also licensed private investigators & we can assist you in locating the defendant in order to serve them. We have convenient process service office locations in Phoenix, Mesa, Scottsdale, & Tucson, AZ.
We can also attend the Courthouse to issue, file or research files for you as well.
Documents can be sent to us at:
Address:
Arizona Quick Serve
9393 N. 90th St. Ste 121
Scottsdale, AZ
85258
Toll Free: 877-655-2874
Local: (480) 314-5050
Website: www.azprocess.com
Email: [email protected]
Office Hours:
Monday 8:30 AM – 5:00 PM
Tuesday 8:30 AM – 5:00 PM
Wednesday 8:30 AM – 5:00 PM
Thursday 8:30 AM – 5:00 PM
Friday 8:30 AM – 5:00 PM
Saturday Closed
Sunday Closed
Need a Process Server in Canada?
Click our logo & search the directory.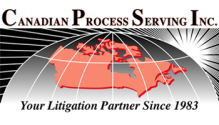 Directions: Click for directions. Opens in a new window.