Looking for process servers in Oceanside California?
Service of Civil Process in San Diego County is our primary business. And regardless of whether you are a large law firm, the US District Attorney from Washington, DC, or are representing yourself (in propia persona), you will receive the same courteous and efficient service.
Address:
Oceanside Service of Process
1759 C Oceanside Blvd.
#344
Oceanside, Ca
92054
Phone: (619) 275-6402
Toll Free: (888) 838-8845
Fax: (619) 275-6420
Email: [email protected]
Website: www.oceansideserviceofprocess.com
Need a Process Server in Canada?
Click our logo & search the directory.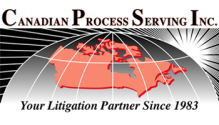 Directions: Click for directions. Opens in a new window.