Looking for process servers in Pembroke Pines Florida?
We shall always provide exceptional service and innovative business strategies by applying the following standards:
Employ a high standard of work ethics.
Provide a high quality of work completion.
Provide prompt service and meet all deadlines.
Continuously communicate with clients.
Follow-through with every client on every case.
Address:
Lightning Fast Process Services
10211 Pines Blvd.
Suite 101
Pembroke Pines FL
33026
Phone: 954-243-9579
Fax: 888-858-7197
Email: [email protected]
Website: www.lightningprocessservices.com
Need a Process Server in Canada?
Click our logo & search the directory.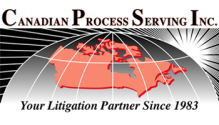 Directions: Click for directions. Opens in a new window.