Looking for process servers in Safety Harbor Florida?
Tired of making phone calls to check on the status of process service? K-One frees up your valuable time by providing our business customers with ONLINE TRACKING of your process serving assignments.
Address:
K-One Investigations
P.O. Box 698
Safety Harbor, Florida
34695
Toll Free: 800-539-6499
Phone: 727-539-6599
Fax: 727-539-6685
Website: /www.k-1.net
Need a Process Server in Canada?
Click our logo & search the directory.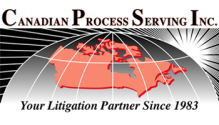 Directions: Click for directions. Opens in a new window.