Looking for process servers in San Jose California?
Founder Robert Von Dollen currently serves as a Bay Area Governor for the California Association of Legal Support Professionals (CALSPRO) and we are also proud members of the National Association of Professional Process Servers(NAPPS); International Association of Process Servers (IAPPS); New York Association of Professional Process Servers (NYAPPS) and accredited members of the Better Business Bureau (BBB) with an A+ rating.
Address:
S&R Services
111 North Market Street
#300
San Jose, CA
95113
Phone: (408) 550-9950
Fax: (408) 550-9154
Email: [email protected]
Website: www.served-u.com
Need a Process Server in Canada?
Click our logo & search the directory.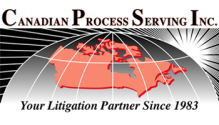 Directions: Click for directions. Opens in a new window.