Looking for process servers in San Diego California?
Our offices are open each weekday from 8:30 a.m. to 5:30 p.m. with trained staff ready to answer any of your questions regarding service of process. You can call us to discuss any assignment you have.
Our process servers receive your assignment the same day you send it to us when service is to be made in the same county as your local Janney & Janney office.
Address:
Janney & Janney Legal Support Service
4891 Pacific Hwy.
Suite 102
San Diego, CA
92110
Phone: (619) 231-9811
Fax: (619) 231-9421
Email: [email protected]
Website: www.janneyandjanney.com
Need a Process Server in Canada?
Click our logo & search the directory.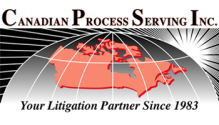 Directions: Click for directions. Opens in a new window.