Looking for process servers in Santa Rosa California?
We are members of CALSPro (California Association of Legal Support Professionals) and NAPPS (Nationwide Association of Professional Process Servers).
Address:
Excalibur Attorney Service & Small Claims Assistance
1007 B West College Avenue
#486
Santa Rosa, CA
95401
Phone: 1-877-378-3843
Fax: 888-378-0782
Website: www.yourprocessserver.org
Need a Process Server in Canada?
Click our logo & search the directory.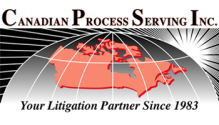 Directions: Click for directions. Opens in a new window.