Looking for process servers in Sarasota Florida?
ASAP Process Services, LLC was initially opened in 2005 in Bradenton, Florida. Since its inception, the company has grown substantially. This is a direct result of knowledge, experience and exceptional customer service.
Address:
ASAP Process Services, LLC
1990 Main Street
Suite 750
Sarasota, FL
34236
Phone: 877-810-2727
Fax: 941-580-3864
Email: [email protected]
Website: www.asapservenow.com
Need a Process Server in Canada?
Click our logo & search the directory.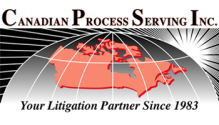 Directions: Click for directions. Opens in a new window.