Looking for a process server in Savannah Georgia?
Located in the Savannah area of Georgia, COASTAL INVESTIGATIONS is a private investigations service that offers the full spectrum of private investigations for companies, attorneys and the general public, including: Civil & Criminal Investigations, Corporate, Divorces, Child Custody, Personal Injury, Surveillance, Workers Compensation, Insurance Fraud, False Arrest Cases w/witness interviews.
Address:
COASTAL INVESTIGATIONS
Post Office Box 2427
Savannah, Georgia
31402-2427
Phone: (912) 653-6290
Email: [email protected]
Website: www.coastal-investigations.com
Need a Process Server in Canada?
Click our logo & search the directory.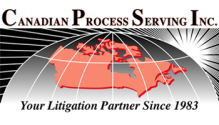 Directions: Click for directions. Opens in a new window.