Looking for a process server in Savannah Georgia?
Crisp & Associates is a private investigation and legal support agency in Savannah, Georgia.
We are licensed private investigators in Georgia and handle most types of civil investigations.
Address:
Crisp & Associates
P.O. Box 13868
Savannah, GA
31416
Phone: 912-354-8229
Website: www.crispandassociates.com
Need a Process Server in Canada?
Click our logo & search the directory.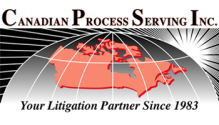 Directions: Click for directions. Opens in a new window.