Looking for process servers in Simi Valley California?
Calwide Process Service provides services at affordable rates. What sets our company apart from the rest of the Process service industry is our commitment to personalized service, our upfront pricing, and the overall superior quality of our services. We do not surprise our clients with hidden fees and unnecessary extra charges.
Address:
Calwide Process Service
4354 Eileen Street
Suite 207 Simi Valley
California
93063
Phone numbers: (818)-262-3501 or (805) 210- 9750
Fax number: (310) 579-8725
Email: [email protected]
Website: www.sites.google.com/site/calwideprocessservices/home
Need a Process Server in Canada?
Click our logo & search the directory.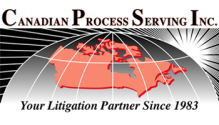 Directions: Click for directions. Opens in a new window.