Looking for process servers in South Scottsdale Arizona?
We accept process service documents by fax, email, regular mail or drop off. Use our automated process service price quote system to obtain an instant price quote.
Once your documents have been served, we will file the original affidavit of process service with the court & also provide a copy of the process service affidavit to you.
Address:
ARIZONA QUICK SERVE PROCESS SERVICE
7150 E. Camelback Rd.
Ste 444
Scottsdale, AZ
85251
Toll Free: 877-655-2874
Local: (480) 314-5050
Website: www.azprocess.com
Need a Process Server in Canada?
Click our logo & search the directory.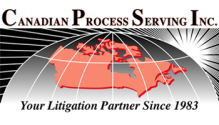 Directions: Click for directions. Opens in a new window.