Looking for process servers in Tarzana California?
When it comes to serving legal documents we understand that deadlines must be met. As a result, it is essential that legal papers get served immediately. However, it is important that service is done correctly. We're able to maintain this balance of ensuring that legal papers are served in a timely fashion while simultaneously not compromising efficiency.
Address:
By the Book Attorney Service
18307 Burbank Blvd.
Suite 131
Tarzana, CA
91356
Phone: (818) 445-7448
Fax: (818) 584-7246
Email: [email protected]
Website: www.bythebookattorneyservice.com
Need a Process Server in Canada?
Click our logo & search the directory.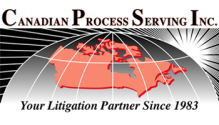 Directions: Click for directions. Opens in a new window.