Looking for process servers in Tavares Florida?
Some of our services include:Process Services ,Courier Services, Mobile Notary, Document retrieval, Debtor letter deliveries,Filing Documents, Issue Documents, Law Enforcement evidence pickups, Occupancy residential checks, Asset photos statewide, Legal document preparation.
Address:
Family & Court Services, LLC
884 S. Duncan Drive
Tavares, FL
32778
Phone: (352) 508.5127
Fax: (877) 352.7898
Email: [email protected]
Website: www.familycourtservice.com
Need a Process Server in Canada?
Click our logo & search the directory.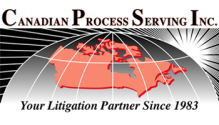 Directions: Click for directions. Opens in a new window.