Looking for process servers in Temecula California?
We control your documents and provide an updated status to you on a regular schedule. (Status by Fax, Email or phone the day after your document is served or after the second trip if any difficulties are encountered). You can rest assure we will give your documents the attention that it deserves.
Address:
Hastings Professional Process Servers
41890 Enterprise Cir.
S. #180
Temecula, CA
92590
Phone: 951-296-2669
Fax: 951-296-2770
Toll Free: 888-296-1099
Email: [email protected]

Website: www.hastingspps.com
Need a Process Server in Canada?
Click our logo & search the directory.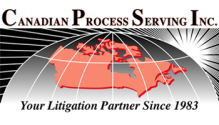 Directions: Click for directions. Opens in a new window.