Looking for process servers in Valley Village California?
Countrywide Process LLC is an Internet Based Process Service Company. Whether you decide to e-mail or fax us, your time sensitive documents are received by our Secure Nationwide Process Servers' Center. Almost instantaneously your documents are saved into our database and a work order is generated.
Address:
Country Wide Process LLC
5437 Laurel Canyon Blvd.
Ste. 112
Valley Village, CA
91607
Phone: 1.877.623.7748
Website: [email protected]
Need a Process Server in Canada?
Click our logo & search the directory.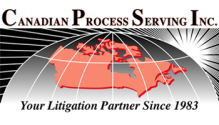 Directions: Click for directions. Opens in a new window.