Looking for process servers in Visalia California?
Our business philosophy is that we provide the best investigative services in all areas of investigation by utilizing the incredible individuals for each specific area of investigation. We continues to maintain the highest levels of integrity, technical sophistication, and expertise in all the different fields of investigations.
Address:
Pipkin Detective Agency
4318 W. Mineral King Ave
Visalia, California
93291
Phone: 559-622-8889
Fax: 559-622-8890
Need a Process Server in Canada?
Click our logo & search the directory.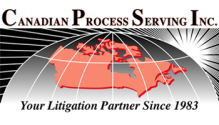 Directions: Click for directions. Opens in a new window.