Looking for a process server in Wellington Florida?
Choice Process Serving is a full service process serving company. Located in South Florida. We have many years of experience and are able to handle all your process serving needs.
Each assignment is handled with the highest level of priority and dignity. We pride our business on the principal that every client is a priority client.
Address:
Choice Process Serving
3584 Birague Dr
Wellington, FL
33449
Phone: 954-905-6535
Fax: 954-919-6304
Email: [email protected]
Website: www.choiceprocess.com
Need a Process Server in Canada?
Click our logo & search the directory.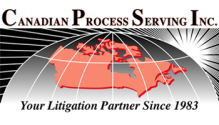 Directions: Click for directions. Opens in a new window.