Looking for process servers in Whittier California?
ARSLegal offers attorneys and insurance companies with limited resources, an alternative to performing time-consuming discovery and subpoena tasks. We have the largest staff of field technicians in California providing efficient, timely copying of records – no matter the volume or type of document – throughout the state.
Address:
ARSLegal
13925 Whittier Boulevard
Whittier, CA
90605
Phone: 562-696-1181
Fax: 562-945-0663
Website: www.arslegal.com
Need a Process Server in Canada?
Click our logo & search the directory.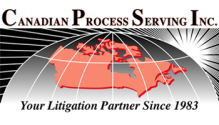 Directions: Click for directions. Opens in a new window.