Looking for process servers in Wilmington Delaware?
Dedicated to extraordinary customer service, Parcels, Inc. is a leading provider of high-quality support services to the legal, corporate and graphics community.
Address:
Parcels, Inc.
230 North Market Street
Wilmington, DE
19801
Phone: (800) 343-1742
Fax: (302) 658-9164
Website: www.parcelsinc.com
Need a Process Server in Canada?
Click our logo & search the directory.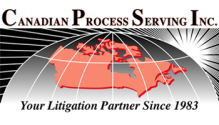 Directions: Click for directions. Opens in a new window.