Looking for process servers in Wilmington Delaware?
Specializing in same day service.
PDF and email services accepted.
Fax service accepted.
Visa and Mastercard accepted.
Address:
1 Day Delaware Process Servers
2500 Delaware Avenue
Wilmington, DE
19806
Phone: 1-800-952-2288
Email: [email protected]
Website: 1daydelawareprocessservers.com
Need a Process Server in Canada?
Click our logo & search the directory.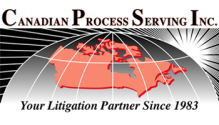 Directions: Click for directions. Opens in a new window.